BOOK WES LOPER!
www.wesloper.com is the official source for the latest news, concert dates, photos, booking information and more.
Call 251-209-2547 to book Wes Loper.

Sign up on the email list to recieve the monthly newsletter! (see below)
Thanks for visiting!

Tickets ON SALE NOW! 2nd Annual Ponderosa Music Fest


http://www.eventbee.com/v/milesworsham/event?eid=125835522
737 Spearmint Rd.
Pennington, AL, 36916
Please join us for our Second Annual Ponderosa Music Fest! It will be a musical night to remember. The gates open at 4pm and showtime will kickoff at 5pm with the beautifully, talented Beth Beighey making her way from Nashville, TN. The Wes Loper Band, also out of Nashville, TN, will take the stage next. The one and only Holli Mosley will be bringing the sounds of Muscle Shoals, AL to cap this amazing night off. Tickets will be available online beginning Monday, September 14. Tickets are also available at Mosley Body Shop in Butler, AL and Magic Touch Cleaners at the Butler and Chatom, AL. This is a family friendly event so bring the entire family! You will not be disappointed! Check out the Artists at the following links:
Holli Mosley - Just like the twinkling blooms of southern Star Jasmine, singer Holli Mosley's voice infuses the air with sweet, sultry melodies that are taking this budding artist straight to the top. From opening the stage for the likes of Jason Aldean, Blake Shelton & Travis Tritt and into the hallowed halls of Muscle Shoals' FAME Recording Studios, Holli has positioned herself alongside some of the most venerated southern rock & soul performers of the last 50 years. Under the tutelage of FAME Studios President Rodney Hall, Holli is perfecting her sound with hand-picked writers and seasoned session players dubbed the new FAME gang - a modern day version of the studio's legendary rhythm section. The combination of Holli's soulful lyrics, powerful voice and company she keeps will make her first single and album, due out in 2016, the one to watch. Capturing the essence of the Muscle Shoals' sound, Holli is recording in-studio with The Swampers - the original FAME band members that helped put the town on the music industry's map. Collaborations on the album feature guest writers and performances by The SteelDrivers' lead vocalist Gary Nichols, Larry Byrom of Steppenwolf fame and Grammy Award winner John Paul White, formerly of The Civil Wars. https://www.facebook.com/hollimosley?fref=ts / www.reverbnation.com/hollimosley
Wes Loper - A singer/songwriter who was born and raised along the Gulf Coast and is originally from Mobile, AL. He performs professionally as a solo, duo, trio, or full band. He mixes Rock, Country, Blues, and Folk music to create his own style with a funky, beach side feel. He shares the stage with A-list musicians and sets the bar for hard work and dedication. Wes now resides in the Nashville, TN area and continues to write and record. http://www.wesloper.com/
Beth Beighey - Born and raised in Detroit, Michigan & nearly 10 years spent on the emerald beaches of Panama City Beach, FL, Beth Beighey's soulful mixture of rock and country will allow you to appreciate ANY genre. Nashville songstress Beth Beighey has opened for national acts such as CCR, Luke Bryan, Blackberry Smoke & Taylor Hicks. Projects including BB & the Wild Boys keep her busy writing and performing in many different states and countries! Check out her upcoming shows in the U.S. and Europe! https://www.facebook.com/BethBeigheyMusic?fref=ts
Join us in Mexico! Registration deadline is September 22, 2015. Details and registration at www.copa-nut.com/rivieramaya.htm

Key West anyone? Join us for an exclusive Sunset Sail Concert featuring Wes Loper and Dave McKenny November 5, 2015 at 5pm. Email Bart Parent barteman@yahoo.com to reserve your spot. $75 per person BYOB.
Latest Album Somethin Real Available Now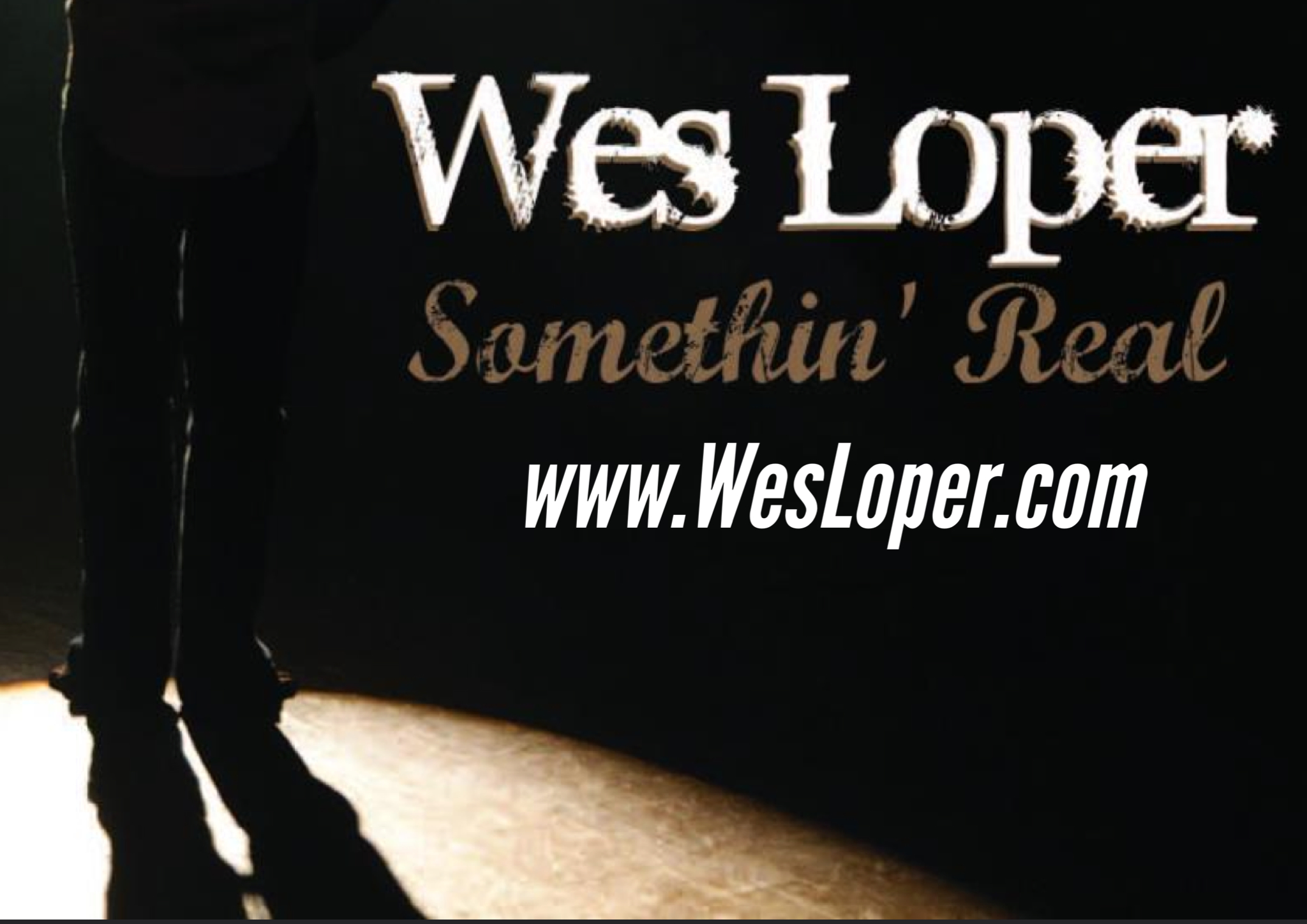 The newest album can be purchased at all shows and online. To buy this album directly from Wes, click the "Buy Now" button below. Digital download is available on Itunes.
---
WES GETS SIRIUS AIRPLAY
A bit of good news...Jimmy Buffett's Radio Margaritaville added the song "Shreveport To L.A." to their regular music rotation. The internet based station can be heard online at www.radiomargaritaville.com as well as on Sirius Satellite Radio, Channel 31. Fans are encouraged to show their support by requested increased play "Shreveport To L.A." Click here to email your request.