For Booking Information:

Wes Loper Entertainment, Inc.
[email protected]
251.209.2547

Mailing Address:

Call for Address
Wes Loper Entertainment, Inc is the OFFICIAL booking source for Wes Loper and all related entities: Wes Loper Band, Acoustic Evening with Wes, Acoustic Party Duo, and all Songwriter Showcase appearances and House Concerts.
We do partner with booking agencies for certain markets and events, but for information about availability and pricing, please contact us.
If you would like to inquire by email, please use the form below and include as much information about youself and your event as possible in order to help expidite your request.
*During busy times it can take up to two weeks for us to reply and you are encouraged to utilize phone and text as well for fastest response.
Thank Y'all!
Send Question or Comments Via Email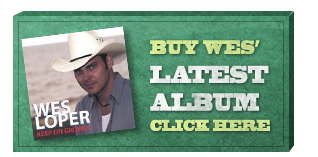 Sky Bar - Auburn, Alabama
Saturday, August 16, 2008 - 10:00pm
Sky Bar - Auburn, Alabama
Saturday, August 16, 2008 - 10:00pm
Sky Bar - Auburn, Alabama
Saturday, August 16, 2008 - 10:00pm
Sky Bar - Auburn, Alabama
Saturday, August 16, 2008 - 10:00pm
view more events